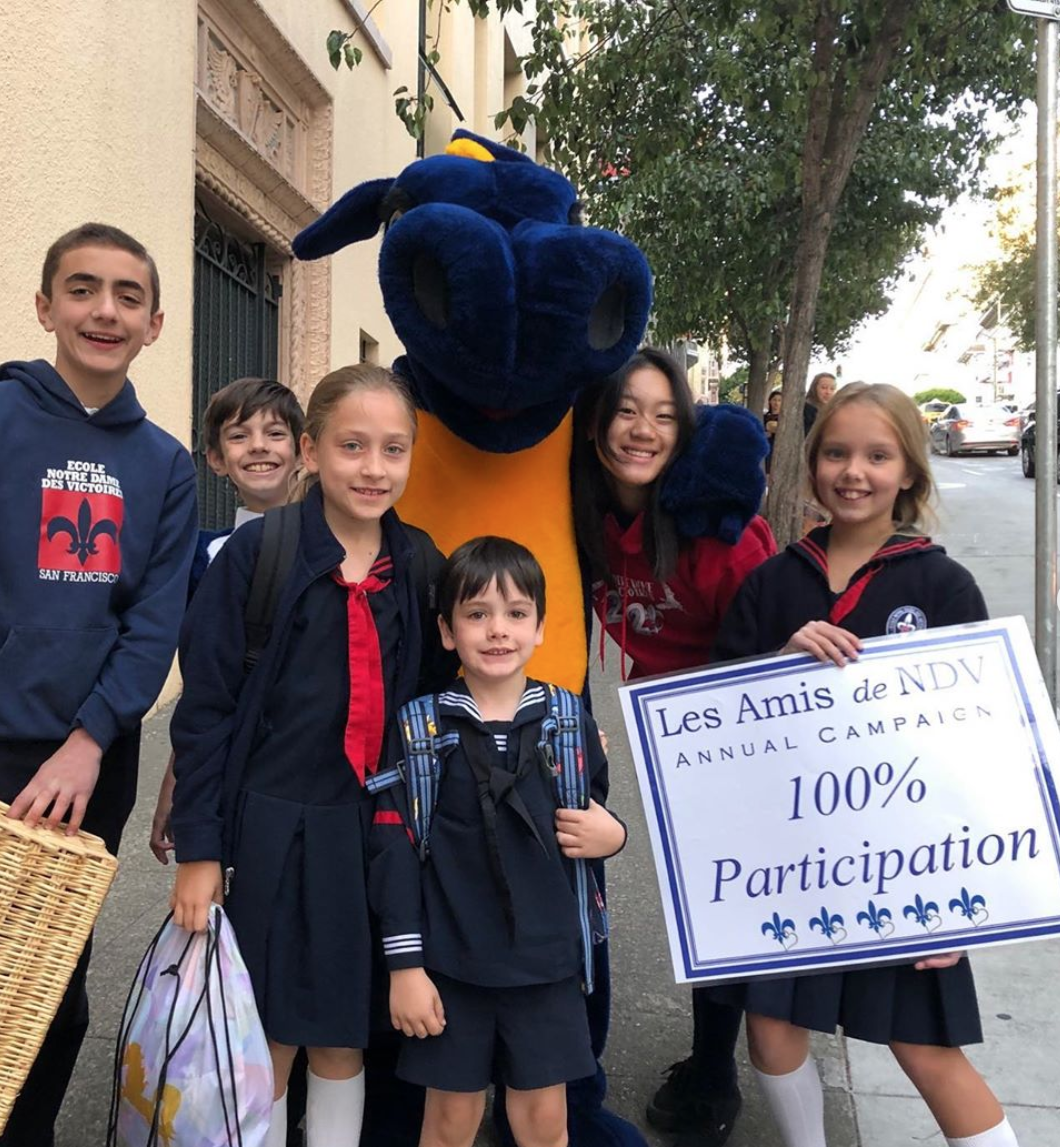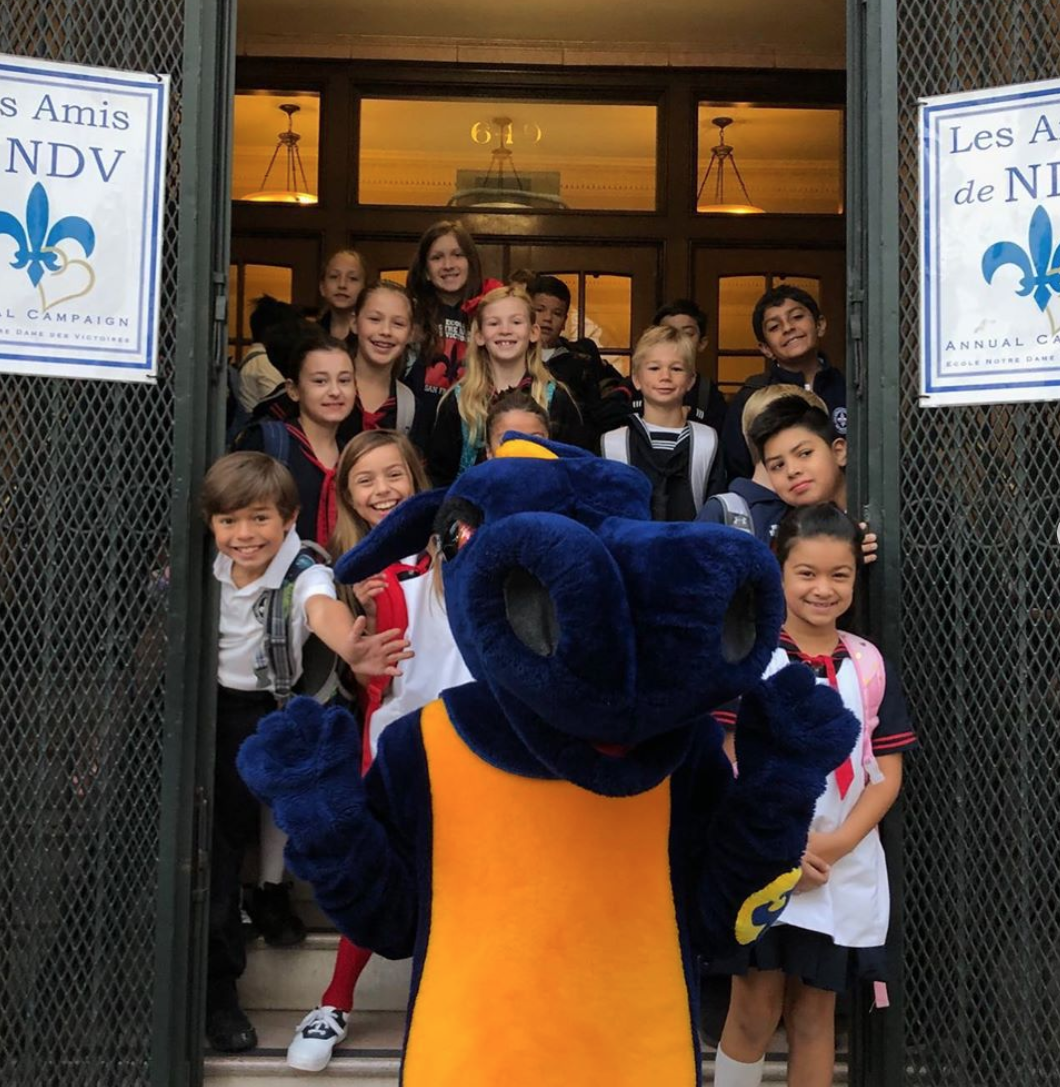 Tuition and fees cover only a portion of the school's total operating expenses. NDV seeks gifts from families, friends, grandparents, alumni, faculty, staff and local businesses as it enables improvements to school facilities, helps fund school programs, provide for scholarships, and aids in the general operation of the school.
There are a number of ways to support Notre Dame des Victoires and depending on how you choose to help, your support is greatly appreciated and your gift is tax deductible. To find out more about any one of the campaigns listed below, contact the school office at 415.421.0069.
EIN#: 94-1156777
Les Amis de NDV
Les Amis annually invites gifts of financial donations and/or prayers from various constituencies of the school and business community. This is the annual capital campaign that supports the school infrastructure and Scholarship Fund. Funds raised last year allowed for renovation to the girls bathroom and faculty bathroom. In addition, the WiFi cabling replacement project improved connectivity throughout the school.
Annual Giving Pledge
Each family with students in École Notre Dame des Victoires is asked to consider a yearly pledge of $600 through the Annual Giving Program. The Annual Giving donation, contributed to Notre Dame des Victoires Church, allows the parish to subsidize the school by providing students with enrichment programs such as music, art, drama, a school counselor, repairs and maintenance of the school plant as well as other needs. While $600 is our goal, we understand that some will be in a position to give more, some less, and others may not be able to give at all. NDV is grateful for the generous contributions from all.
Alumni Giving
NDV's active alumni, many of whom have become prominent business and civic leaders, continue to maintain close ties with their alma mater, testifying to both NDV's enduring benefits and its vitality as a community. We are grateful for alumni who generously give to NDV.
Corporate Gift Matching
Many corporations provide matching funds for donations which is a great way to maximize your tax deductible gift. Be sure to check with your employer in order to take advantage of the opportunity.
Merchant Support
NDV participates in a number of programs that benefit the school through routine purchases.  The organizations below donate a percentage of sales credited to NDV to the NDVPA to support various student activities.
Amazon Smile
NDV benefits when you shop at Amazon.com by using the AmazonSmile program https://smile.amazon.com or through the Amazon app on iPhones and Androids. 0.5% of your purchase price goes directly to the NDVPA.
To add AmazonSmile to your phone's app, please first register via the website. Then go to "Settings" in the main menu of the app (≡). Tap on "AmazonSmile" and follow the onscreen instructions. Your setting will remain in place for future purchases.
* Please note that purchases made through apps on tablets are not applied to AmazonSmile. You may create a shortcut to the AmazonSmile website on your device's home screen or login via your browser.
Escript
NDV benefits by families and friends registering their credit cards and loyalty cards with www.escript.com. NDV automatically receives a percentage of purchases when you use a registered card at a participating retailer. This enables you to passively give to NDV without writing a check!   Our group name is Ecole Notre Dame des Victoires.
Sports Basement
If you shop at Sports Basement, you may enroll in their "Basementeers" program for a one-time $25 charge and link your account to "NDV Notre Dame des Victoires School". Once enrolled, you will receive a 10% discount on all future purchases and the NDVPA receives 10% of your purchase amounts.
Extreme Pizza
Extreme Pizza offers a 10% discount to NDV family and friends! They also donate 10% of our orders to the NDVPA.  This discount can be used at the three SF locations (Fillmore, Folsom & Union) for dine in, takeout, and delivery.
Simply mention NDV or enter "NDV" as an online discount code.
Mollie Stone's
Mollie Stone's offers a free Community Card that enables 5% of our community's purchases to be donated to NDV.  You may pick up a card from any Mollie Stone's cashier; save time by filling out a form in advance! Register your card online or by calling (800) 931-6258. Simply present your Community Card or provide your phone number when checking out for NDV to receive credit for your purchase.
Label Daddy
Label Daddy offers a variety of personalized labels for children's clothes, personal items, and many items for home.  They also give back 25% of purchases made via our NDV portal: bit.ly/LabelDaddyNDV.
Boxtops for Education
When members of our community purchase General Mills products, NDV benefits.
Simply scan grocery receipts using the Box Tops for Education mobile app, which can be downloaded here: www.boxtops4education.com. You many also clip and collect the Box Top for Education coupons found on General Mills products. Each coupon is worth 10 cents.
Minted
Enjoy 20% off Minted cards and gifts throughout the year when you or others use the coupon code FUNDRAISENOTREDAME at checkout. 15% of each order will be donated back to NDV.
Benefit Mobile
The Benefit Mobile app enables you to purchase gift certificates from a wide variety of retailers.  The NDVPA earns 2-20% of the of gift certificates' value!  You can also store electronic gift cards on your phone via the app and scan them for every day purchases such as Starbucks, Amazon, Target, and Peets. Gift cards can be delivered electronically or can be printed.
Download the app from the app store or our Benefit Mobile page: bit.ly/BenefitNDV. Please select École Notre Dame des Victoires as a beneficiary and link a credit card or checking account to begin. Please note that your initial setup may take a couple days as payment methods require verification.

École Notre Dame des Victoires
659 Pine Street
San Francisco, CA 94108
ph 415.421.0069
office@ndvsf.org
Église Notre Dame des Victoires
566 Bush Street
San Francisco, CA 94108
ph 415.397.0113
ndvsf.org
NDV is a member of the Western Association of Schools and Colleges, the Western Catholic Educational Association, the CSJ Educational Network, and the Society of Mary.