73rd Annual Bal de Paris
3NUIT DE LA BELLE ÉPOQUE
Saturday, November 4, 2023
The planning committee is working hard to bring you an unforgettable evening. This major fundraiser supports the school and the church in significant areas of operation. As part of the Bal, the Fund-A-Need donations from this special evening will go directly towards an important school upgrade.
Hope to see you all there! Merci!
What is the Bal de Paris?
The Bal de Paris is the largest fundraising and community building event of the year at NDV.  This gala is an opportunity for NDV parishioners, parents, grandparents, alumni and prospective families to gather together in an elegant ballroom and bid on items to raise funds for our church and school.  Every year brings a new theme and whether the theme is Casino Royale, Cirque Magnifique or Voyages Extraordinaires, it is always a dazzling evening of high spirits and revelry.
A Fundraising Tradition Whose Roots Run Deep
The history of the Bal de Paris begins, as any good Bay Area yarn must, with the price of real estate. To be specific: $110,000.
That was how much it cost to rebuild l'Église Notre Dame des Victoires following the 1906 Earthquake and Great Fire, which had devastated the French community. Homes were flattened and businesses lost. It took nearly a decade to re-establish the historic landmark church, which had, since its founding in 1856, provided a civic and spiritual heartbeat for French immigrants and their children.
After the new church was completed, between 1913-1915, the Rev. Lous Le Bihan, S.M., the presiding Marist pastor and driving force at NDV for 30 years between 1927-1957, turned his attention to the need for a school and purchased three prime lots located along Pine Street for $40,000. The Archbishop of San Francisco guaranteed a loan of $340,000, at that time a quite sizable sum, that would take many decades to pay off after l'École Notre Dame des Victoires opened its doors in January 14th, 1924.
In this mounting debt were the seeds of what would ultimately, in 1950, come to be known as the "Bal de Paris." The church's new school opened in the depths of the Depression and it would require both commitment and vision to lay the foundation of what today, nearly 100 years after NDV quite literally rose from the ashes of the 1906 Earthquake, is a thriving academic, religious and civic community woven deeply into the fabric of downtown San Francisco.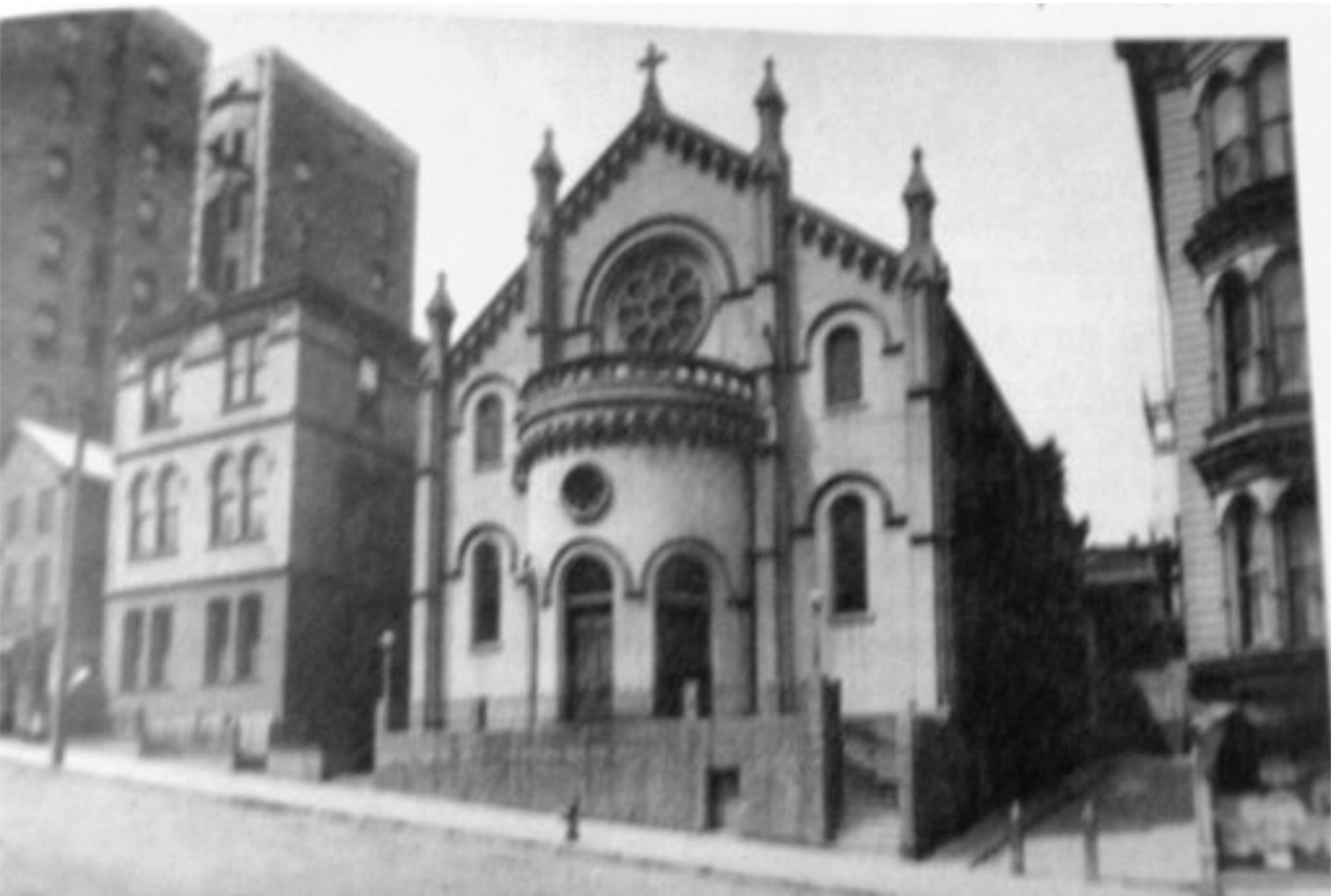 It all started with Mardi Gras dinner…
Father Etienne L. Siffert, S.M., who has been an informal historian for both the church and school, recalled that the community has always been enterprising, and the evolution of the Bal de Paris is evidence of that fact. "It all started in the early years before 1950 with a Mardi Gras dinner, along with a bazaar and games in the church hall, which was very popular," he said.
This early fundraiser, which included a dance in the school gym, a bazaar in the church hall and myriad lunches and dinners, raised precious dollars to support overflowing classrooms, Father Siffert said, "but it was not enough."
"The classrooms were full, sometimes with as many as 50 children in a class, but tuition was only five dollars a month! And some people thought it was too much!"
It was time for something more ambitious to fund the fledgling school: Le Bal de Paris. The first formal black-tie fundraiser took place in November 1950 at the Fairmont Hotel on Nob Hill, where it remained for much of the next decade. "It was a very elegant and formal affair in those days, and in recent years we have come back to that tradition, which is very nice," said Mrs. Gloria Boyle, chair of the Bal in 1956 and, along with her daughter and granddaughter, a graduate of NDV.
"Just as it is now, it was a special thing for the community. We had two orchestras and back then we had reception lines, and it was a wonderful feeling, being known and recognized by name. It was a welcoming thing that was very meaningful and quite sophisticated," said Mrs. Boyle, who has for many years sponsored a table of 10. "I suppose one of the most memorable periods was when a group of mothers at the school decided to get together and take dance lessons and perform at the Bal." Mrs. Boyle recollected of a featured entertainment that started in 1961 and lasted several years. "They were so professional and so good that people kept saying, "How can it be that they're just a group of mothers from the school? They did quite a job with that."
With the exception of 1963, when sponsors varied the formula and decided to revert to the three-day Mardi Gras celebration format, the Bal de Paris has been held continuously at various hotels all over the city. Many have been located at venerable haunts such as the Fairmont (where the Bal was most often held in its early years) to the Sheraton Palace, Ritz-Carlton, Four Seasons, Hotel Meridien and the Hyatt on Union Square. Themes have varied over the years, reflecting the style and ethos of the era. Some of the more memorable events have included high-spirited, high-kicking Can-Can dancers and elaborate displays of decorations inspired by the likes of artists such as the celebrated post-Impressionist chronicler of Parisian nightlife, Henri de Toulouse-Lautrec. At one point in the early decades the Francisco School of Ballet participated, providing costumes for display as decorations and a live performance in the midst of the Bal.
Moving out of the Big Band Era and into the 1960's and 1970's, the Bal reflected changing times. In 1970, the event had its first male co-chair, Jean Belleau, while 1984, 1990 and 2011 saw the only husband-wife teams ever to take the helm (M & Mme Gregory Hogg, M & Mme Michael Trusdell, 2011 M & Mme Helmut Schmidt respectively.)
"It was a very special event," remember Yvonne Sangiacomo, who chaired two Bals in the 1970's. "I used to be in charge of hiring the bands. My father (the great nightclub impresario Agostino "Bimbo" Giuntoli) was in that business so I loved doing that. At one point we were trying so hard to get this one group. They were known as the DeCastro Sisters. They were quite prominent in those days and played Las Vegas and New York and the Bal wanted them so bad. And I tried and tried."
Tried and succeeded, but not without some ingenuity. Mrs. Sangiacomo, whose seven children all attended NDV, took it upon herself to go down to her dad's club, Bimbo's 365 Club, negotiate with the local musician's union and then persuade the singers to hop in a taxi and race up to perform at the Bal de Paris between acts down at the club.
"Afterwards we put them back in a taxi and brought them back to Bimbo's," said Mrs. Sangiacomo. "That was fun! We were creative, and had a good time – because we had a good cause to work for." Perhaps one of the edgier Bal themes was prompted in 1972 by the release of the new film "Cabaret," whose memorable master of ceremonies role (made famous by Joel Gray) was reenacted in a live performance of "Money Makes the World Go-Round" by Dr. Alan Giannini, a well-regarded San Francisco allergist.
"Every year is different, but always everyone has a wonderful time," said Father Siffert. "There are so many memories over time, through the years."
The Bal's history has evolved and been imprinted with the talents and commitment of each year's chairmanship, along with the influence and support of committee members. But what is perennial as the Bal itself is the ongoing spirit and legacy built upon year after year, a reflection of the vital community and city in which l'Église and l'École Notre Dame des Victoires were first established.
It was perhaps best said by Father Siffert, an integral part of the monumental annual effort since his arrival at NDV in 1975: 
"It brings the whole school and church community together in a way that reflects our uniqueness. There is a mix of cultures, families, businesses and all with one thing in common: A desire to support the long-standing pillar that Notre Dame des Victoires has been for so many people.  By working together we understand one another. With the Bal de Paris, young blood from the parents and school community is joined with our storied traditions from the past. It is very special."
With gratitude we thank the following Bal de Paris chairs and the countless volunteers, parishioners and NDV families who contributed to making this annual event so fun and memorable.
Bal de Paris Chairs
.1950 Mme Harry C. Davis
1951 Mme Harry Somerfield
1952 Mme Rene Grialou, Mme Nicholas F. Cebalo
1953 Mme Andre Pechoultres
1954 Mme Frederick Hall, Mme Vasco K. Vannelli
1955 Mme Ralph Kircher, Mme Joseph A. Guiffre, Mme John Hurley
1956 Mme Peter Bercut, Mme Philip Boyle, Mme Robert Girerd
1957 Mme Thomas Murphy
1958 Mme Alfred Arnaud, Mme Jack Seltenrich
1959 Mme Martin Del Bonta
1960 Mme Bern Rocci-Gutbert, Mme Glenn Ghiselli
1961 Mme Fernard Casabonne, Mme Paul Marty
1962 Mme Arthur Press
1963 Mme James Silvestri
1964 Mme Harry Marchand
1965 Mme Keith Norgard
1966 Mme George L. Higgins, Mme Irene Leutza
1967 Mme Albert Aubert
1968 Mme N. Michael Kavanaugh, Mme George Tournahu
1969 Mme Gerald Cook, Mme Helene Duport
1970 M Jean Belleau, Mme John Jordan
1971 Mme Albert Aubert, Judge Ollie Marie-Victoire, Mme Yvonne Sangiacomo
1972 Mme Bernard Baylocq, Mme Robert Mohun, Mme George Moscone
1973 Mme Jack Louhoo, Mme Eugenia Murphy, Mme Dominic Tarantino
1974 Mme Martin Eyerachar, Mme Arthur Martini, Mme Russell F. Stechsculte
1975 Mme Denise Baylocq, Mme Judy Doyle
1976 Mme Wilna Bordachar, Mme Yvonne Sangiacomo
1977 Mme Peter Corroo, Mme Joan Rubia
1978 Mme Mary Lou Giannini, Mme John O'Brien, Mme Alfred Sassus Jr.
1979 Mme Claire Casabonne, Mme Joseph Polizzi
1980 Mme Robert Andrini, Mme Richard Fiore
1981 Rev Pere Leonard Ferringo
1982 Mme Joanne Rubia
1983 Mme Marguerite Falango, Mme Michael Stewart
1984 M & Mme Gregory Hogg
1985 Mme Anne Metais, Mme Eugene Udovich
1986 Mme John Christen, Mme Robert Dondero
1987 Mme Philip O'Keefe, Mme Helmut Schmidt
1988 Mme Edward Perry, Mme Benjamin Yee
1989 Mme Marilyn Terry
1990 M & Mme Michael Trusdell
1991 Mme Timothy Doyle, Mme Elizabeth O'Keefe
1992 Mme Robert Martel, Mme Keith Rutz, Mme Gregory Ryken
1993 Mme Frederic Campagnoli, Mme William Diefenbach, Mme Philip Telesco
1994 Mme David Bardelli, Mme Howard Meehan
1995 Mme Maria Creasey, Mme Maripaz Lee, Mme Jacqueline Martin
1996 Mme Patricia Chan, Mme Macy Lam, Mme Maureen Revel
1997 Mme Maureen McGinley, Mme Alena Kucera
1998 Mme Beth Cucco, Mme Janet Nedeau, Mme Renee Vignoles
1999 Mme Rose Heller, Mme Patty Jayo, Mme Nicole Sorhondo
2000 Mme Renee Max, Mme Lana Panfilova
2001 Mme Monica Oggero, Mme Renee Vignoles
2002 Mme Linda Decker, Mme Jackie Forman, Mme Kathy Ghanayem, M Cyrian Tabuena
2003 Mme Mary Falzon, Mme Susan Penney, Mme Lucy Ribeiro, Mme Renee Vignoles
2004 Mme Jeanine Alexander
2005 Mme Orla Fahy, Mme Susan Penney
2006 Mme Amy Kelly,Mme Kathleen Flores
2007 Mme Michelle Galvin
2008 Mme Alona Sandoval-Grenacher, M Tim Sheridon
2009 Mme Virginia Plant
2010 Mme Erica Plam
2011 M & Mme Helmut Schmidt
2012 Mme Laurie Sharp
2013 Mme Laura Holliday, Mme Shawn Hunnicutt
2014 Mme Melanie Johnke, Mme Maureen Kelly
2015 Mme Erin Tougher, Mme Michele Brasch
2016 Mme Jill Bourque
2017 Mme Mia Green, Mme Mila C. Meniktas
2018 Mme Jill Bourque, M an Mme Patrick Breitenback
2019 Mme Julia Arnold, Mme Connie Foppiano
2020 Mme Sunny Shapiro
2021 Mme Tina Phan, Mme Heather Cassady
2022 M. Reggio Hearn 

École Notre Dame des Victoires
659 Pine Street
San Francisco, CA 94108
ph 415.421.0069
office@ndvsf.org
Église Notre Dame des Victoires
566 Bush Street
San Francisco, CA 94108
ph 415.397.0113
ndvsf.org
NDV is a member of the Western Association of Schools and Colleges, the Western Catholic Educational Association, the CSJ Educational Network, and the Society of Mary.