Get Involved
Be a parishioner
To be a parishioner, please download and complete the Parishoner Form, and submit via regular mail or drop off at the office/in a box at the rear of the church.
We also have various outreach ministries for you to get involved with.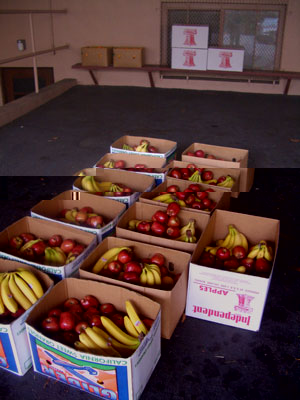 Be a volunteer for outreach ministry
NDV supports St Vincent de Paul Fruit Delivery to homeless shelters in San Francisco. On the 3rd and sometimes the 5th Saturday of the month NDV parishioners meet at the SVP Church parking lot located at 2320 Green Street at Steiner at 8:00 am to sort the fruit into boxes for delivery. After delivering the fruit we return to SVP parking lot. The time commitment is from 8:00 am to 9:45 am. Transportation to and from the SVP Church can be provided by first meeting at NDV at 7:45 am. To participate in this ministry of serving the homeless, contact the rectory.
The Gubbio Project is one of the only places in the city homeless people can go to receive shelter during the daytime hours. The projects opens its doors to between 50 and 150 individuals every weekday, allowing anyone in need to take shelter from the elements and rest in safety and comfort. Since February of 2009, Parishioners and friends of NDV have been volunteering to make breakfast once a month for the guests of the Gubbio Project. We serve between 20 and 40 people, depending on attendance. We strive to make every breakfast feel like a family meal, and so we encourage all volunteers to eat and converse with the guests. Our hope is that we can initiate friendships, break down social barriers, and walk in the path of Christ by breaking bread with our brothers and sisters and sharing our lives together as equal members of the community of God. We are always looking for more smiling faces to help. Volunteers arrive between 6:30-7:00 am on the second Friday of every month to cook and set up food. Some volunteers cook egg fritatas, bacon or sausage, pancakes, crumpets and toast. Other foods like fruit, breakfast cakes, donuts, juice, coffee, milk etc. are purchased and set out. All food is provided by donation but donations are not required to volunteer. If you think you would like volunteer, donate, or otherwise to get involved, we would love to hear from you. If you are interested, please contact Rectory for more information.
Toiletries for the Tenderloin - About ten years ago the Marists of NDV church joined an interdenominational group (network ministries) ministering to the Tenderloin tenement hotel community. There is also another location in Mission district. Each week when visiting the hotel they bring toiletries (soaps, shampoo, toothpaste, toothbrushes, deodorants etc.). Often new supplies need to be purchased. Anyone willing to assist us is invited to do so. You can leave toiletries, or donate cash to be used to purchase supplies. If you have any questions, please contact Fr. Dennis.
Eucharistic ministry - We do eucharistic ministry to the St. Francis Hospital, Tunnel Convalescent, and homebound persons. Please contact the rectory for details.